The Fourth of July Parade and Picnic
July 4 @ 11:00 am

-

1:00 pm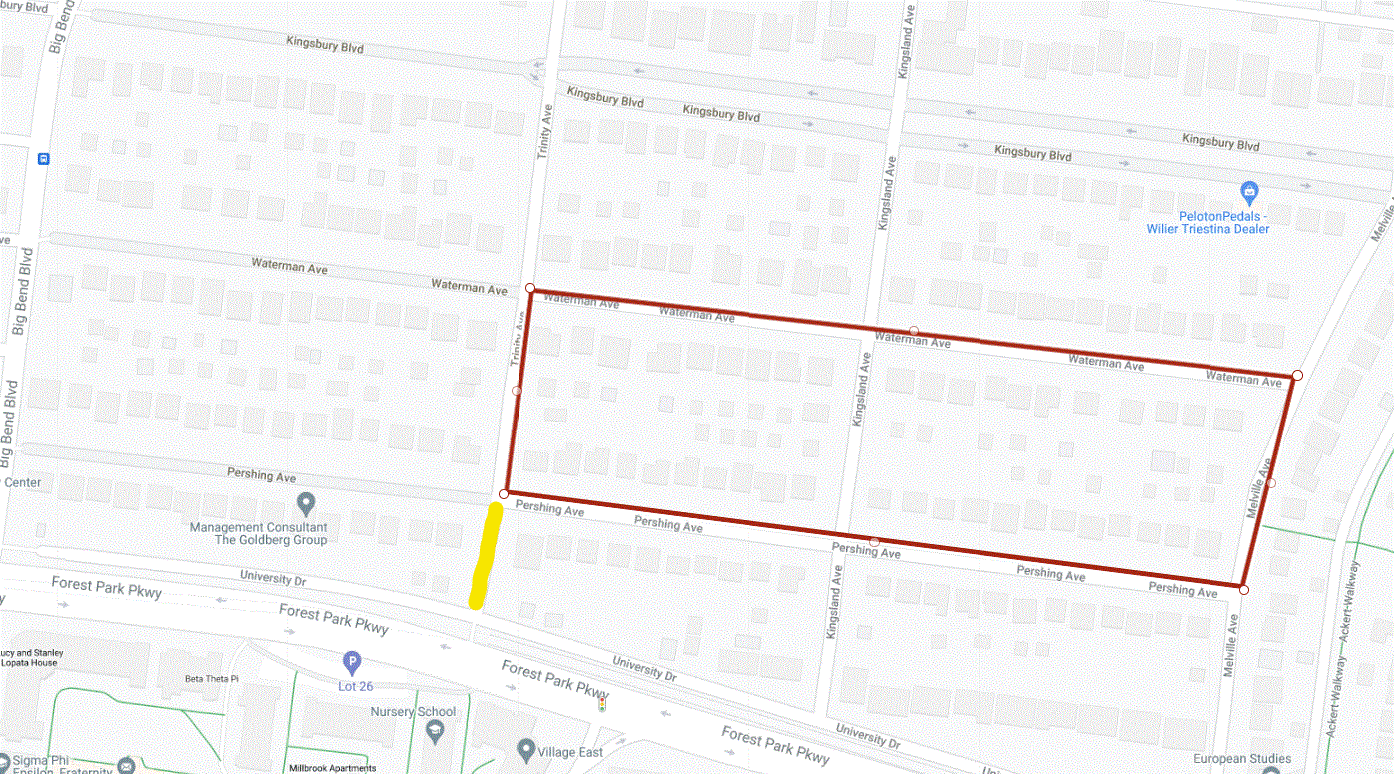 Ames Place Residents,

 

We are thrilled to celebrate with you at our Ames Place Fourth of July Parade and Picnic on Monday, July 4th!  Here is some key info:

11:00AM:  The parade will begin at the intersection of Trinity and Waterman (in front of 6843 Waterman)– see route map above.  The parade will include a U City fire truck, K-9 unit, and our beloved marching band (contact Brad Evanoff for details — 314-315-6214 or bevanoff@wustl.edu). 

We also encourage kids to join the parade by bike, wagon, etc.– there will be a prize for the best decorated! So get your glue sticks, streamers, and construction paper out and your red, white and blue creative juices flowing!
As in prior years, if you live on the parade route,

 

please have your cars off the street by 10am on the morning of the 4th.

The parade route will begin at the intersection of Trinity and Waterman and first head South on Trinity, then East on Pershing, North on Melville and finally West on Waterman and end where it begins.

Following the parade, we have a food truck (tacos!) and an ice cream truck lined up.  We'll put on some music and enjoy some beverages, including beer and root beer.  These will be located on Trinity between Pershing and UDrive (highlighted in yellow on the parade map).

Festivities will wrap by 1:00PM and we would welcome any take down/clean up volunteers!

We are expecting a day full of fun and look forward to seeing our neighbors.  We are in need of volunteers to ensure the event goes smoothly.  We hope to give folks a specific task or two so assisting will NOT take up your whole day.  If you're able to help, please sign up using this document or email Buck Smith at kssmithjr@gmail.com. Please provide your contact information on the first tab and sign up for specific tasks on the following tabs. 

We hope to see everyone there!